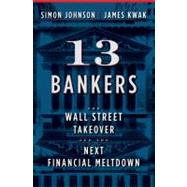 Note: Supplemental materials are not guaranteed with Rental or Used book purchases.
ISBN: 9780307379054 | 0307379051
Cover: Hardcover
Copyright: 3/30/2010
Johnson is former chief economist of the International Monetary Fund and, with Kwak, writes a popular blog called the Baseline Scenario. So you have to listen when they argue that the financial industry has taken over the U.S. government.
In 13 Bankers, Simon Johnson—one of the most prominent and frequently cited economists in America (former chief economist of the International Monetary Fund, Professor of Entrepreneurship at MIT, and author of the controversial "The Quiet Coup" in The Atlantic)—and James Kwak give a wide-ranging, meticulous, and bracing account of recent U.S. financial history within the context of previous showdowns between American democracy and Big Finance: from Thomas Jefferson to Andrew Jackson, from Theodore Roosevelt to Franklin Delano Roosevelt.
They convincingly show why our future is imperiled by the ideology of finance (finance is good, unregulated finance is better, unfettered finance run amok is best) and by Wall Street's political control of government policy pertaining to it.
Johnson and Kwak examine not only how Wall Street's ideology, wealth, and political power among policy makers in Washington led to the financial debacle of 2008, but also what the lessons learned portend for the future.