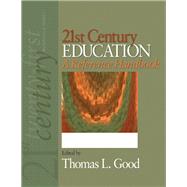 Note: Supplemental materials are not guaranteed with Rental or Used book purchases.
ISBN: 9781412950114 | 1412950112
Cover: Hardcover
Copyright: 10/2/2008
Education has many faces.  To some, it's their second-grade teacher.  To others, it's an economic indicator (e.g., property values increase on the perceived quality of nearby schools).  But whatever face we see individually, surely all would agree that American education is a vital cornerstone to the maintenance of our society-its safety, prosperity, health, and social good.  Schools transcend teacher-student relationships and are complex institutions around which important policy decisions and vast investments are made. Central to the thinking of many Americans in weighing such decisions and investments is the performance level of our students and the quality of student learning.  What should they be taught?  Can they calculate?  Can they think, find and solve problems?  Can they write persuasively?  Can they work cooperatively with others on complex tasks?  How does their performance vary with factors such as school quality, community involvement, and the amount of money schools receive?  Other questions revolve around the students themselves.  Who are they, and how do they vary?  What percentage comes from affluent homes versus poor ones, and how does the economic divide affect the educational enterprise?  What languages do they speak in their homes, and what is the general range of cultural and ethnic groups represented in our schools?  In addition, who are our teachers, and how are they prepared for the task of educating our children?  To what standards should both students and teachers be held accountable? 21st Century Education: A Reference Handbook tackles these questions and more.  Via 100 chapters written by leading experts, the handbook highlights the most important topics, issues, questions, and debates any student obtaining a degree in the field of education ought to have mastered for effectiveness in the 21st Century.  The purpose is to provide undergraduate majors with an authoritative reference source that will serve their research needs with more detailed information than encyclopedia entries but not as much jargon, detail or density as journal articles or research handbook chapters.  This comprehensive and authoritative two-volume work provides readers with insight into the rich array of issues inherent in education, issues informing debates that involve all Americans. Over 50 million students are enrolled in K-12 public education, with still others enrolled in private schools or home-schooled.  To work with these students, we have all-time record enrollments in colleges and professional schools for individuals preparing for or furthering their careers as teachers, professors, administrators, service personnel, and other positions within the educational enterprise.  It is our hope that 21st Century Education: A Reference Handbook will help in that preparation, informing the debates and preparing future educators to address the questions and to meet the challenges they pose.