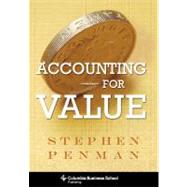 Note: Supplemental materials are not guaranteed with Rental or Used book purchases.
ISBN: 9780231151184 | 0231151187
Cover: Hardcover
Copyright: 1/15/2011
This book shows investors and analysts how to handle accounting in evaluating equity investments. Penman takes a novel approach to valuation by showing that valuation and accounting are much of the same thing: valuation is actually a matter of accounting, a matter of accounting for value.Penman lays aside many of the tools of modern finance--the cost-of-capital, the CAPM, discounted cash flow analysis--that are the modernist's attempt to quantify investing. He finds them too imprecise when putting one's money at risk. Though retaining many of the economic principles on which modern finance is built, he provides an alternative quantification by returning to the common-sense principles that have always guided fundamental investors: price is what you pay but value is what you get; the risk in investing is the risk of paying too much; anchor on what you know rather than speculation; beware of paying too much for speculative growth. The book operationalizes these ideas with the quantification supplied by accounting to produce practical tools for the game that Benjamin Graham's "intelligent investor" plays with price?for the negotiation with Mr. Market, as Graham would say.Accounting for value informs the investor of the growth forecasts Mr. Market is making to arrive at his price. Accounting tools are then deployed to challenge that forecast. Aware of the risk of paying too much for growth, an accounting for value provides protection and tells the investor the likely return from buying growth. Strikingly, the analysis finesses the need to calculate a "cost-of-capital," the problem that so frustrates the application of modern valuation techniques. The analysis confronts "value" versus "growth" investing as being too simple and indeed misguided about the risk in buying growth. And it explains such curiosities as why earnings-to-price and book-to-price predict stock returns. By the end of the book, Penman has the intelligent investor thinking as an intelligent accountant, as an investor who intelligently accounts for value, one better equipped to handle the bubbles and crashes of our time. Penman also has a prescription for intelligent accounting, engaging the accounting issues of our time, including the controversy over fair value accounting. The book is a conversation with investors about accounting and valuation, but one that regulators who prescribe accounting for the investor might well listen in on.