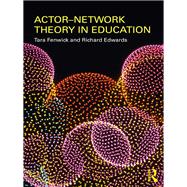 Note: Supplemental materials are not guaranteed with Rental or Used book purchases.
ISBN: 9780415492966 | 0415492963
Cover: Hardcover
Copyright: 7/12/2010
Actor-network theory (ANT) has enjoyed wide uptake in the social sciences in the past three decades, particularly in science and technology studies, and is increasingly attracting the attention of educational researchers. ANT studies bring to the fore the material - objects of all kinds - and de-centre the human and the social in educational issues. ANT sensibilities are interested in the ways human and non-human elements become woven into objects. They examine the particular connections and translations that assemble all of these objects, processes, concepts, and institutions into presence, and they follow the movements and politics of these objects as they assemble to order everyday practices and places in particular ways. Most ANT studies trace all things as enactments that are effects continually produced in webs of relations. Since its first introduction, actor-network theory has undergone significant shifts and evolutions and as a result, it is not considered to be a single or coherent theoretical domain, but as developing diversely in response to various challenges.This book offers an introduction to actor-network theory for educators to consider in three modes. One mode is the introduction of concepts, approaches and debates around actor-network theory as a research approach in education. Another mode is a showcase of educational studies that have employed ANT approaches in classrooms, workplaces and community settings, drawn from the UK, USA, Canada, Europe and Australia. These work with ANT in highly diverse ways, often bending and twisting ANT ideas to better approach the educational question at hand whether it focuses on policy critique, curriculum inquiry, engagements with digital media, change and innovation, issues of accountability, or exploring how knowledge unfolds and becomes materialized in various settings. A third mode is conversation with recent 'after-ANT' inquiries. These open an array of important new approaches to trace the ontological politics of socio-material phenomena in education, its messy and fluid objects, and its ambivalences and non-coherences. Across these diverse environments and uptakes, the authors trace how learning and practice - as assemblages of activity, actors and spaces - emerge, show what scales are at play, and demonstrate what this means for educational possibilities.