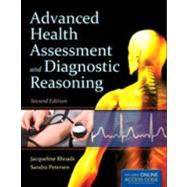 Note: Supplemental materials are not guaranteed with Rental or Used book purchases.
ISBN: 9781449691400 | 1449691404
Cover: Hardcover
Copyright: 2/1/2013
Many texts address the physical examination component of health assessment, but do not cover the diagnostic reasoning process that a health care provider must go through when assessing an actual case. In the Second Edition of Advanced Health Assessment and Diagnostic Reasoning, author Jacqueline Rhoad does just that. By including each step of health assessment, Rhoad demonstrates the links between health history and physical examination, and provides the healthcare provider with the essential data needed to formulate a diagnosis and treatment plan. Furthermore, the content in Advanced Health Assessment and Diagnostic Reasoning, Second Edition is accessible and presented in a way that is easy to follow and retain.Key Features & Benefits Three introductory chapters cover general strategies for health history taking, physical examination, and documentation, and the remaining chapters cover clinical aspects of assessment, and focus on various systemic disorders (e.g., gastrointestinal, cardiovascular, musculoskeletal). Aspects of the health history are presented in two columns. The first column gives the type of information that the provider should obtain, and the second column provides specific questions or information to note and gives examples of what conditions the findings may indicate. Aspects of the physical examination are presented in two columns. The first column gives the action, and the second column lists normal and abnormal findings, and possible diagnoses associated with those findings. Every clinical chapter contains a "Differential Diagnosis of Common Disorders" table. This table summarizes significant findings in the history and physical exam and gives pertinent diagnostic tests for common disorders. Every clinical chapter also includes "Assessment of Special Populations." This section highlights important information on assessing pregnant, neonatal, pediatric, and geriatric patients. Case studies are integrated into each chapter. These case studies recount a patient#146;s history and provide sample documentation of the history and physical examination. The sample documentation familiarizes students with proper and complete documentation and use of forms, and is complete with a final assessment finding or diagnosis.