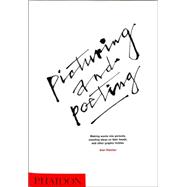 Note: Supplemental materials are not guaranteed with Rental or Used book purchases.
ISBN: 9780714847122 | 0714847127
Cover: Hardcover
Copyright: 11/14/2006
The Final Monograph from the Internationally Renowned GraphicDesigner; Follow up to Beware Wet Paint and The Art of Looking Sideways.Phaidon Press is pleased to announce the publication of a new monographfilled with Mr. Fletcher's most recent creative work, PICTURING ANDPOETING.The book is an eye-catching and mind-teasing collection of visualgames, doodles, graphic objects, drawings, typographic collage andquotations. Filled with almost 300 color images, is a wonderful, witty takeon how to think visually and will be a source of inspiration for designersor anybody who works the arts or advertising. PICTURING AND POETING is a testament to Fletcher's remarkable talent and areflection of the intelligence and visionary creativity for which he was soacclaimed. The book presents a wealth of material from his notebooks andtravel diaries about people and places, the contextual patterns of wordsand letters, and the charming and infuriating idiosyncrasies of the way inwhich we communicate with the world around us.Throughout this personal collection of work, Fletcher's sketches andquotations demonstrate how images can often communicate a point moreclearly than text.A self-proclaimed "doodler," Fletcher offers anentertaining exploration of the potential that words have to becomepictures, and that drawings have to convey meanings. This book will appealto anyone who enjoys visual mind-teasers and clever stories. Alan Fletcher belonged to that elite international group of designers whotranscended the conventional boundaries of their craft.He is wasconsultant Creative Director to Phaidon Press and the author of Beware WetPaint (1996) and The Art of Looking Sideways (2001) The Design Museum ofLondon will be hosting the exhibition "Alan Fletcher: Fifty years ofgraphic work (and play)" through February 2007. PICTURING AND POETING is a tribute to the storied 50-year career of one ofthe world's great creative thinkers.As Emily King states so eloquently inthe book's introduction, "Although much of this book seems to be the workof an instant, it is, of course, the product of a lifetime."