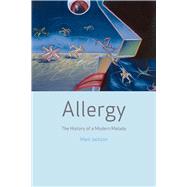 Note: Supplemental materials are not guaranteed with Rental or Used book purchases.
ISBN: 9781861892713 | 1861892713
Cover: Hardcover
Copyright: 6/1/2006
Every spring, summer, and fall it descends on us, bringing rounds of sneezing, headaches, and stuffed noses. It attacks through foods, animals, plants, and innumerable chemical combinations. It is among the most common and potentially lethal afflictions known. It has a unique history as both a medical condition and a cultural phenomenon. It is the allergy, the subject of Mark Jackson's fascinating chronicle. Only a century ago, allergies as we know them didn't exist. Ailments such as hay fever, asthma, and food intolerance were considered rare and non-fatal diseases that affected only the upper classes of Western society. Yet, as Jackson reveals here, what began in the early 1900s as a scorned subfield of immunology research in Europe and America exploded into great medical, cultural, and political significance by the end of that century. Allergy traces how the allergy became the archetypal "disease of civilization," a fringe malady of the wealthy that became a disorder that bridged all socioeconomic boundaries and fueled anxieties over modernization. Jackson also examines the social impact of the allergy, as it required new therapeutic treatments and diagnostic procedures and brought in vast economic rewards. Whether cats, crabgrass, or cheese is the source of your daily misery, Jackson's engaging and in-depth historical narrative is an invaluable addition to the history of medicine as well as to the history of culture. In Allergy, sneezing readers can discover themselves at the center of deep cultural currents.