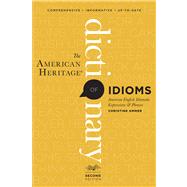 Note: Supplemental materials are not guaranteed with Rental or Used book purchases.
ISBN: 9780547676586 | 0547676581
Cover: Paperback
Copyright: 2/26/2013
Bite the bullet, make no bones about it, take the cake.Expressions like these abound in English, yet they can't be understood literally based solely on the meanings of the words they're made up of. The American HeritageŽ Dictionary of Idiomsis a detailed exploration of these and other idiomatic expressions, including phrasal verbs such as kick back,proverbs such as too many cooks spoil the broth,interjections such as tough beans,and figures of speech such as dark horseand push up daisies.Among the surprises in store as readers peruse the pages of this book are the fact that the seemingly modern term person of coloractually dates from the late 1700s; that mutual admiration societywas coined by Henry David Thoreau; that in 18th-century Britain birthday suitreferred to the clothes one wore on the king's birthday; and that the origins of on the up-and-up, put the kibosh on,and the whole nine yardsare unknown. The first edition of the American HeritageŽ Dictionary of Idiomswas notable not only for its wealth of information but also for the perceptiveness and wit with which it provided cultural and historical context to its definitions. Now, fifteen years after the publication of that first edition, author Christine Ammer has extensively revised and expanded her original text to keep up both with historical scholarship and with ongoing changes in the English language. The result is an up-to-date dictionary that defines over 10,000 idiomatic expressions in greater detail than any other dictionary available today.