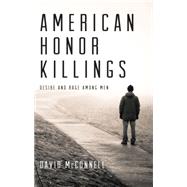 Note: Supplemental materials are not guaranteed with Rental or Used book purchases.
ISBN: 9781617751325 | 1617751324
Cover: Paperback
Copyright: 3/5/2013
In American Honor Killings, straight and gay guys cross paths, and the result is murder. But what really happened? What role did hatred play? What were the men involved really like, and what was going on between them when the murder occurred? American Honor Killingsexplores the truth behind squeamish reporting and uninformed political rants of the far right or fringe left. David McConnell, a New York-based novelist, researched cases from small-town Alabama to San Quentin's death row. The book recounts some of the most notorious crimes of our era. Beginning in 1999 and lasting until the 2011 conviction of a youth in Queens, New York, the book shows how some murderers think they're cleaning up society. Surprisingly, other killings feel almost preordained, not a matter of the victim's personality or actions so much as a twisted display of a young man's will to compete or dominate. We want to think these stories involve simple sexual conflict, either the killer's internal struggle over his own identity or a fatally miscalculated proposition. They're almost never that simple. Together, the cases form a secret American history of rage and desire. McConnell cuts through cant and political special pleading to turn these cases into enduring literature. In each story victims, murderers, friends, and relatives come breathtakingly alive. The result is more soulful, more sensitive, more artful than the sort of "true crime" writing the book was modeled on. A wealth of new detail has been woven into old cases, while new cases are plumbed for the first time. The resulting stories play out exactly as they happened, an inexorable sequence of events--grisly, touching, disturbing, sometimes even with moments of levity. David McConnellis the author of the acclaimed novel The Silver Hearted. His short fiction and journalism have appeared widely in magazines and anthologies.