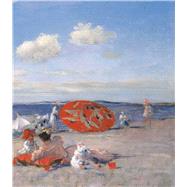 Note: Supplemental materials are not guaranteed with Rental or Used book purchases.
ISBN: 9780300199505 | 0300199503
Cover: Paperback
Copyright: 6/25/2013
American Impressionism and Realism: The Painting of Modern Life, 1885–1915 brings together the appealing works of two generations of American painters and presents them from a fresh point of view. The American Impressionists and Realists have been categorized as separate or even opposing groups, but, in fact, they shared significant experiences and goals—notably Parisian training, an enthusiasm for modern French painting, and a desire to translate these sources into a peculiarly American idiom. The continuities between these two groups are more impressive and the constrasts more subtle, a complexity that is highlighted by arranging the works not by artist or chronology, but by broad subject categories: the country, the city, and the home.
The turn of the last century was a time of unprecedented political, economic, and social change due to industrialization, rise of the middle class, redefinition of family and gender roles, and a new scientific understanding of the world. People were acutely aware that they were living in a new age, and modernity became a key concept in their definition of themselves and their times. Charles Baudelaire's issued a mandate in his essay "The Painting of Modern Life" in 1863, that modernity must accompany true beauty in painting. In their dazzling sunlit landscapes, bustling city views, and glimpses of the domestic scene, the American Impressionists and Realists became Baudelairean painters of modern life yet also expressed the nationalism, optimism, euphemism, and nostalgia that typified the American response to the exciting and daunting developments of their new era. [This book was originally published in 1994 and has gone out of print. This edition is a print-on-demand version of the original book.]