The Annotated Arch A Crash Course in the History of Architecture
, by
Strickland, Carol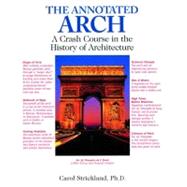 Note: Supplemental materials are not guaranteed with Rental or Used book purchases.
ISBN: 9780740710247 | 0740710249
Cover: Paperback
Copyright: 4/10/2001
The Annotated Archtakes architectural history out of the realm of dreary textbooks into a world of dynamic design, succinct page-length essays and instructive sidebars. These graphic devices heighten the reader's ability to retain an impressive amount of information, even through a cursory reading. A brief run-through of the book's captions and sidebars provides a mini crash course in the history of architecture. Incorporating more than 250 illustrations,The Annotated Archdraws on the very elements of architecture to craft a visual and textual approach to the subject that no ordinary textbook could match. From Stonehenge to the Eiffel Tower, from Flippo Brunelleschi to Frank Lloyd Wright, the language of architecture is clarified in five sections.Everything you always wanted to know about architecture is all right here inThe Annotated Arch, which covers architectural wonders from the Stone Age to the Space Age. Presented in a reader-friendly format, this new book enlightens, entertains, and informs with its lively look at architecture.What's the difference between Doric, Corinthian, and Ionic? Within the 192 illustrated pages ofThe Annotated Arch, readers will learn all about these distinctive styles--and more. From engineering breakthroughs to cultural history, from biographical anecdotes to analyses of corresponding and clashing stylesThe Annotated Archcovers all the architectural bases. The book breaks new ground with excerpts from interviews conducted by the author with leading contemporary architects.This newAnnotatedbook follows Carol Strickland's first volume on art history,The Annotated Mona Lisa. Peppered with sidebars,The Annotated Archwill appeal to anyone who loves architecture or who simply wants to learn more about it in a painless, enjoyable way. It's a great, educational read.