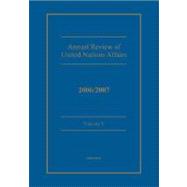 Note: Supplemental materials are not guaranteed with Rental or Used book purchases.
ISBN: 9780195370768 | 0195370767
Cover: Hardcover
Copyright: 4/7/2008
The set generally: Since the publication of its first edition in 1950, the Annual Review of United Nations Affairs has stood as the authoritative resource for scholars, students, and practitioners researching the latest developments of that august body. From the insightful introductorycommentary to the full-text presentation of reports and resolutions to the helpful subject index, ARUNA provides a practical tour of each year's U.N. actions and debates. The expert selection of documents by Karl Sauvant and Joachim Muller and the topic-based organization of the papers make this auseful and easy to use resource. This particular edition (2006-07): The past year has been one of the most tumultuous and challenging in the U.N.'s history and, indeed, in the modern history of the entire globe. This year's edition of ARUNA presents the story of that tumult as well as the story of the U.N.'s efforts to resolveboth global conflicts and internal controversy. Specifically, this year's set of volumes includes documents related to the U.N.-based World Food Programme, whose management provoked an international scandal last year. However, most the 2006-07 edition of ARUNA focuses on the more critical issuesaffecting millions of lives around the world in the past year: the Darfur genocide, climate change, the Palestinian refugee crisis, West Africa's political and social instability. By providing the full text of both the resolutions addressing these topics and the U.N. reports concerning them, ARUNA06/07 delivers a unique resource for students, scholars, and practitioners. The series' topic-based organization of the materials and subject index lend invaluable guidance to all researchers. This year, Dr. Edward Luck (Director of the Center on International Organization of the School ofInternational and Public Affairs at Columbia University) is contributing an introductory essay that will illuminate this year's varied and troubling world events. This particular volume (Vol. 5): In this volume, Sauvant and Muller focus solely on the "letters" and reports of the U.N. Secretary-General, including some of the last such reports in Kofi Annan's tenure. The reports in this volume include those addressing the crisis in Sudan, the investigation ofLebanese Prime Minister Hariri's assassination, and the Middle East conflicts generally.