Is There Anything Good About Men? How Cultures Flourish by Exploiting Men
, by
Baumeister, Roy F.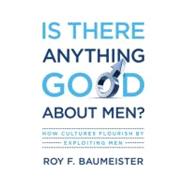 Note: Supplemental materials are not guaranteed with Rental or Used book purchases.
ISBN: 9780195374100 | 019537410X
Cover: Hardcover
Copyright: 8/12/2010
Women may be more lovable than men, but male traits have been vital for creating the progress that brought humankind from the Stone Age to the miracles of modern culture. This provocative book builds on two key differences between men and women in order to understand gender politics and manhood today. First, as shown in recent DNA evidence, today's human population is descended from twice as many women as men -- so men faced much longer odds in the age-old competition to reproduce, leading them to take more risks and strive for greatness more than women, whose evolutionary strategies required a different set of behaviors. Second, whereas women favor and excel at one-to-one intimate relationships, men build larger organizations, groups, and other social networks than women do, and culture grows from these networks. Men know they must earn respect by their works, and the need to prove one's manhood has been a tremendous force in history and culture. The male role calls for men to achieve and produce, to provide for others, and if necessary to sacrifice themselves for women and children. This book challenges the widely accepted view that gender politics began with men exploiting and oppressing women. Instead, Baumeister says, men and women have mostly been partners, and gender inequalities arose because wealth, knowledge, and power were created by men in the often rough and brutal competition that was the engine of progress and civliization. This thoughtful and engaging book offers a new vision of maleness that does not tell men that they should try to be more like women.