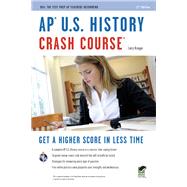 Note: Supplemental materials are not guaranteed with Rental or Used book purchases.
ISBN: 9780738608136 | 0738608130
Cover: Paperback
Copyright: 2/17/2010
REA's AP U.S. History Crash Course Get A Higher AP Score in Less Time'¦Guaranteed! Updated Second Edition - Includes information based on the 2009 AP U.S. History exam! REA's AP U.S. History Crash Course is perfect for the time-crunched student, the last-minute studier, or anyone who wants a refresher on the subject! Are you crunched for time? Have you started studying for your AP U.S. History exam? How will you memorize all those facts and important historical events before the test? Do you wish there was a fast and easy way to study for the exam AND boost your score? If this sounds like you, don't panic. REA's AP U.S. History Crash Course is just what you need. With our Crash Course , you can study the subject faster, learn the crucial material, and boost your AP score - all in less time. Our Crash Course gives you: Targeted, Focused Review ' Study Only What You Need to Know The Crash Course is based on an in-depth analysis of the AP U.S. History course description outline and actual AP test questions. It covers only the information tested on the exam, so you can make the most of your valuable study time. Broken down into major topics and themes, REA gives you two ways to study the material '" chronologically or thematically. This updated edition includes information based on the 2009 AP U.S. History exam! Expert Test-taking Strategies Written by an AP teacher who has studied the AP U.S. History Exam for 20 years, the author shares his detailed, question-level strategies and explains the best way to answer the multiple-choice and essay questions. By following his expert advice, you can boost your overall point score! Key Terms You Must Know Mastering AP vocabulary terms is an easy way to boost your score. Our AP expert gives you the key termsall AP U.S. History students must know before test day. Take REA's FREE Practice Exam! After studying the material in the Crash Course , go online and test what you've learned. Our full-length practice exam features timed testing, detailed explanations of answers, and automatic scoring. The exam is balanced to include every topic and type of question found on the actual AP exam, so you know you're studying the smart way! Whether you're cramming for the test at the last minute, looking for an extra history boost, or want to study on your own in preparation for the exam ' this is one study guide every AP student must have! When it's crucial crunch time and your AP U.S. History exam is just around the corner, you need REA's AP U.S. History Crash Course!