Architects of Ruin : How Big Government Liberals Wrecked the Global Economy--And How They Will Do It Again If No One Stops Them
, by
SCHWEIZER PETER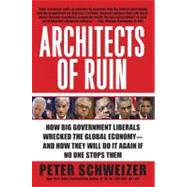 Note: Supplemental materials are not guaranteed with Rental or Used book purchases.
ISBN: 9780061953378 | 0061953377
Cover: Paperback
Copyright: 11/23/2010
Was the financial collapse caused by free-market capitalism and deregulation run amok, as liberals claim?Not on your life, says Peter Schweizer. In Architects of Ruin, Schweizer describes how a coalition of left-wing activists, liberal politicians, and do-good capitalists" on Wall Street leveraged government power to achieve their goal of broadening homeownership among minorities and the poor. The results were not only devastating to the economy, but hurt the very people they were supposedly trying to help.This tale of liberal Robin Hood capitalism run wild" has never been told. But more than just a story about the past, Architects of Ruin is also an urgent warning about the future. The very same people who planted the seeds of the collapse are back in Washington, determined to use the crisis they caused as cover for a massive overhaul of the American economic system. These people have learned nothing from their past mistakes and are busy applying the same methods to other sectors of the economy-health care, the auto industry, real estate (again!), and above all the promotion of green" technologies-inflating bubbles that are sure to bring about another crisis. Ordinary Americans who foot the bill for the last state-capitalist bubble have reason to be afraid-very afraid-of the inevitable result.