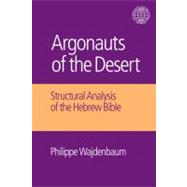 Note: Supplemental materials are not guaranteed with Rental or Used book purchases.
ISBN: 9781845539245 | 1845539249
Cover: Hardcover
Copyright: 8/21/2014
Argonauts of the Desert explains through a comparative analysis based on the structural method of anthropologist Claude L'vi-Strauss, how most of the stories and many laws of the Bible were inspired by Greek literature. The books from Genesis to Kings may have been written by a single author, a Hellenized Judean scholar, who used Platos ideal State in the Laws as a primary source of inspiration. As such, biblical Israel is a recreation of that twelve tribes State, governed solely by divine law. Most stories surrounding the birth, life and death of that State were inspired by Greek epics, such as the Argonauts, Thebes, Heracles and Troy, as well as by Herodotus Histories. Previous paradigms dealing with the origins of the Old Testament, such as the documentary hypothesis, are rejected in this demonstration. The main chapters are set in the order of the books from Genesis to Kings, each of which presents biblical stories or laws and compares them with their Greek or Roman equivalents. For each story, there is a discussion of similarities and differences. Through this demonstration, the reader comes to understand how the Bible was written and influenced by Greek literature. The book can be read as a commentary on the Bible in light of its Greek sources, to an extent that has not been attempted before.