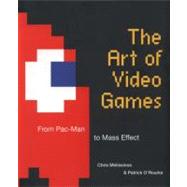 Note: Supplemental materials are not guaranteed with Rental or Used book purchases.
ISBN: 9781599621104 | 159962110X
Cover: Hardcover
Copyright: 4/10/2012
In the forty-year history of the video game industry, the medium has undergone staggering development, fueled not only by advances in technology but also by an insatiable quest for richer play and more meaningful experiences. From the very beginning, with the introduction of the Magnavox Odyssey in 1972, countless individuals became enthralled by a new world opened before them, one in which they could control and create, as well as interact and play. Even in their rudimentary form, video games held forth a potential and promise that inspired a generation of developers, programmers, and gamers to pursue visions of ever more sophisticated interactive worlds. As a testament to the game industry's stunning evolution, and to its cultural impact worldwide, the Smithsonian American Art Museum and curator Chris Melissinos conceived the 2012 exhibition The Art of Video Games. Along with a team of game developers, designers, and journalists, Melissinos selected an initial group of 240 games in four different genres to represent the best of the game world. Selection criteria included visual effects, creative use of technologies, and how world events and popular culture influenced the games. The museum created a website and invited the public to help choose the most popular games; after almost four million votes coming from 175 countries, eighty winners were selected and are featured in the exhibition and in this book. The Art of Video Gamesoffers a revealing look into the history of the game industry, from the early days of Pac-Man and Space Invaders to the vastly more complicated contemporary epics such as BioShock and Uncharted. Melissinos examines each of the eighty winning entries, with stories and comments on their development, innovation, and relevance to the game world's overall growth. Visual images, composed by Patrick O'Rourke, are all drawn directly from the games themselves, and speak to the evolution of games as an artistic medium, both technologically and creatively. Also included are interviews with some of the industry's most influential artists and designers, from pioneers such as Nolan Bushnell to contemporary innovators including Warren Spector and Tim Schafer. From Pac-Man to Mass Effect, The Art of Video Gamesmakes a compelling case for games to be viewed not just as mere play, but as richly textured, compelling experiences that have crossed the boundary into culture and art. As Melissinos writes, "Our children are being born into a world in which the digital and physical collide, and video games are the expressive voice of that collision." The Art of Video Gamespresents the evolution of that voice, as it becomes ever more powerful.