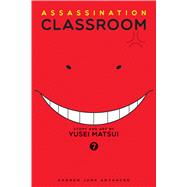 Note: Supplemental materials are not guaranteed with Rental or Used book purchases.
ISBN: 9781421576138 | 1421576139
Cover: Paperback
Copyright: 12/1/2015
Ever caught yourself screaming, "I could just kill that teacher"? What would it take to justify such antisocial behavior and weeks of detention? Especially if he's the best teacher you've ever had? Giving you an "F" on a quiz? Mispronouncing your name during roll call...again? How about blowing up the moon and threatening to do the same to Mother Earth—unless you take him out first?! Plus a reward of a cool 100 million from the Ministry of Defense! Okay, now that you're committed... How are you going to pull this off? What does your pathetic class of misfits have in their arsenal to combat Teach's alien technology, bizarre powers and...tentacles?!

The 3-E students hope to kill on their final exams to win not only respect but a special reward. Over summer break, Nagisa, Sugino, and Maehara play amateur entomologist with…a girl? After rigorous training with the greatest assassin of all, the class launches their best assassination plan yet! Now who will save our would-be assassins from a myserious biological weapon…?