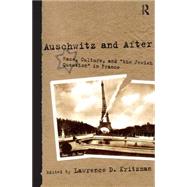 Note: Supplemental materials are not guaranteed with Rental or Used book purchases.
ISBN: 9780415904414 | 0415904412
Cover: Nonspecific Binding
Copyright: 11/28/1994
The memory of the Holocaust and the "Jewish question" have been key issues in French political, cultural and intellectual life for the past fifty years. Since Auschwitz, every word evoking its past either dissimulates guilt or simply denies the reality of the extermination that took place. Immediately following World War II, discussion of French participation in the "Final Solution" became taboo. Support for a massive inquiry into the many crimes of collaboration became an impossibilty because too many Frenchmen felt guilty because of their complicity during the war. Collaborators went back "into the closet" and the sins of the past were magically eradicated. Beginning with Marcel Ophus's documentaryThe Sorrow and the Pity(1970) there has been an attempt to question the idea of a totally unified, courageous and resistant wartime France. Even more startling have been the increasingly shocking revelations that the politics of collaboration were a mere extension of a deep-seated Frenchanti-Semitic tradition. In the shadow of these developments French writers and philosophers today are reflecting on the meaning of Jewish identity in the contemporary world. Auschwitz and Afteranalyzes for the first time how the memory of Auschwitz and the collaboration continue to haunt the French. These critical evaluations are accompanied by provocative essays on the "Jewish Question" and the politics of race as they have been studied by writers, historians, philosophers and film makers in postwar France.Auschwitz and Afteroffers an extraordinary compendium of critics of French culture treating subjects as diverse as: the representation of the Holocaust and the politics of revisionism; anti-Semitism in contemporary France; the literature of Jews writing in French; the literature of the French writing on Jews; the post-Auschwitz philosophy of Blanchot, Derrida, Levinas and Lyotard; images of the occupation in the films of Ophuls, Chabrol,Truffaut and Malle; war memories and autobiographical writing; and the construction of Jewish identity in Sartre, Aron, Levi-Strauss and Finkielkraut. Contributors:Geoffrey Hartman, Pierre Vidal-Naquet, Elaine Marks, Susan Rubin Suleiman, Judith Friedlander, Alain Finkielkraut,Lawrence D. Kritzman, Jeanine Parisier Plottel, Allen Stoekl, Jean-Francois Lyotard, Emmanuel Levinas, Ora Avni, Jeffrey Mehlman, Warren Motte, Ronnie Scharfman, Richard Stamelman, Naomi Greene, Nelly Furman, Herman Rapaport.