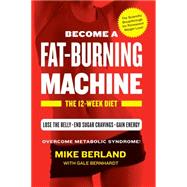 Note: Supplemental materials are not guaranteed with Rental or Used book purchases.
ISBN: 9781942872504 | 194287250X
Cover: Hardcover
Copyright: 12/29/2015
While struggling to pinpoint the cause of his weight gain, Mike Berland discovered the key to breaking his body's focus on fat-storage: a diet that keeps his metabolic syndrome in check and enables his body to burn fat while exercising. He quickly lost sixty pounds and feels better than ever. Now, he has teamed up with his trainer, former Olympic triathlon coach Gale Bernhardt, to show readers how they, too, can lose weight, stay fit, and perform better.

Despite being highly active in many sports, Mike Berland struggled with his weight for nearly thirty years. From 1986 to 2012, he gained one to two pounds each year, steadily growing from 192 to 236 pounds. His waistline was constantly increasing; he was a fat-storing machine. Feeling his fitness quickly fading, he tried every diet out there—high-carb, low-carb, no-meat, all-meat—but nothing worked. He was losing hope, until he met with nutrition specialist Dr. Laura Lefkowitz. She taught him about his condition, metabolic syndrome, an energy utilization and storage disorder that is affecting Americans at an alarming rate. Dr. Lefkowitz helped him lose weight dramatically, but as soon as he went back to his exercise routines, he gained weight again. The more he exercised, the hungrier he became. Unwilling to settle for this situation, Mike pursued one last resource: Gale Bernhardt, an elite Olympic triathlon coach and author of many exercise books. Together, Mike and Gale have unlocked the secrets to dealing with metabolic syndrome and working out without gaining any weight.

Featuring expert advice from Dr. Lefkowitz and Gale Bernhardt, this book offers unique insights and specific plans to lose weight, increase health, and improve fitness. In addition to precise meal and exercise plans, The Fat-Burning Machine Diet provides general tips about how to calibrate your diet for maximum effect—which foods burn fat, which foods will sabotage your effort, when and how to snack, and the best schedule for maximizing workouts and eating—along with sample menus and recipes to get started on a healthier path. Unlike books that focus exclusively on the diet fad of the moment, this book combines wisdom drawn from the authors' experiences along with extensive research to help transform your eating and exercise patterns—and change your metabolism for good.

The best way to burn fat—and keep it off—is to strategically combine diet and exercise. In this book, readers will learn how to shift their energy so that instead of storing fat it works to fuel an amazing active lifestyle.