The Beginnings of Accounting and Accounting Thought: Accounting Practice in the Middle East (8000 B.C to 2000 B.C.) and Accounting Thought in India (300 B.C. and the Middle Ages)
, by
Mattessich,Richard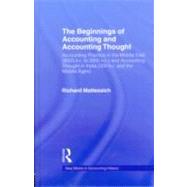 Note: Supplemental materials are not guaranteed with Rental or Used book purchases.
ISBN: 9780815334453 | 0815334451
Cover: Hardcover
Copyright: 8/3/2000
This book is divided into two sections distinct sections. The first part deals with the emergence of accounting practice. It is based on recent archaeological, historical and accounting research, and presents a series of well supported, but often surprising hypotheses. The 10,000 year-old history of accounting culminated first in the Sumerian token accounting and token-envelope accounting (the latter of the 4th millennium BC.). Small clay tokens inside a clay envelope stood for individual assets while the impressions of those tokens on the surface of the envelope represented the totality of the corresponding equity. From this arose (in the 3rd millennium BC.) the crucial innovation of proto-cuneiform bookkeeping that led to abstract counting and writing on clay tablets. The book also illustrates the astounding sophistication manifested in some of the accounting and budgeting procedures of the time. But Sumerian accounting seems to offer no reflections about accounting -- apart from tablets forteaching purposes. Thus the second part deals with the first manuscript containing sections describing accounting activities and reflections about it. This is Kautilya'sArthasastra, written about 300 BC in India. A work, little known in Western accounting; it contains sections describing various accounting, budgeting and taxation aspects. Surprisingly, it deals with relatively modern notions such as the need for taking care of price or price-level changes (long before such ideas arose in the West). This relatively advanced state of Hindu accounting may later have predisposed Indian mathematics to be the first to legitimize negative numbers. There is evidence that in the Middle Ages Indian scholars justified the acceptance ofnegative numbersby associating them withdebtswhile associatingpositive numberswithassets.