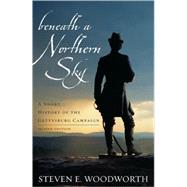 Note: Supplemental materials are not guaranteed with Rental or Used book purchases.
ISBN: 9780742559813 | 0742559815
Cover: Paperback
Copyright: 3/30/2008
Of all the places and events in this nation's history, Gettysburg may well be the name best known to Americans. Millions flock each year to the little town in south-central Pennsylvania where more than 135 years ago the largest, bloodiest, and most dramatic battle of the Civil War raged across the now-peaceful hills and meadows. The subject of an epic movie and a best-selling work of fiction, the battle continues to fascinate Americans. Indeed, for most Americans, Gettysburg is the Civil War. In Beneath a Northern Sky, eminent Civil War historian Steven E. Woodworth offers a balanced and thorough overview of the entire battle, its drama, and its meaning.From Lee's decision to take his heretofore successful Army of Northern Virginia across the Potomac and into Pennsylvania to the withdrawal of the battle-battered Confederate's back across the river into Virginia, Woodworth paints a vivid picture of this pivotal campaign. In this day-by-day account, he describes the fierce fighting that left 48,000 men dead or wounded at sites that have now become famous: Little Round Top, Cemetery Ridge, Devil's Den. This new book provides a realistic sequence of events surrounding the legendary Pickett's Charge, detailing the Confederate's magnificent display of courage and the Union's stalwart, rock-hard defense. Woodworth describes the strategic and tactical decision making and shows how infighting and disagreements among the leaders on both sides impacted the campaign. He details the mind set and morale of the soldiers, revealing how-surprisingly-Union leaders did not take advantage of their troops' high spirits after their victory to finish off the retreating Confederates. Instead of focusing on only one aspect of the Gettysburg Campaign as most other books do, Beneath a Northern Sky tells the tale of the entire battle in a richly detailed but swiftly moving narrative. This new approach to a defining battle is sure to fascinate Civil War buffs and all those interested in the rich history of the United States.