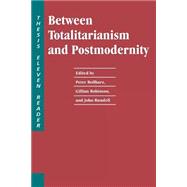 Note: Supplemental materials are not guaranteed with Rental or Used book purchases.
ISBN: 9780262521796 | 0262521792
Cover: Paperback
Copyright: 10/1/1992
These thirteen articles - by such well-known writers as Cornelius Castoriadis, Zygmunt Bauman, Ferenc Feher, Agnes Heller, and Axel Honneth - provide theoretical and historically informed analyses of the powerful currents that are shaping the late twentieth-century political and cultural landscape. They offer insights into the political and philosophical issues stemming from the fall of communism, the troubles of social democracy, and the rise of postmodemism. The reader is arranged in two parts: the first focuses on the current political crises of postcommunist societies and social democracy, while the second takes up the contemporary quarrel between the moderns and the postmoderns. Peter Beilharz is Lecturer in Sociology at La Trobe University, Melbourne, and Gillian Robinson and John Rundell both teach in the Department of Anthropology and Sociology at Monash University, Melbourne. The Essays: Part 1. Between Bolshevism and Democracy, Peter Beilharz. Socialism and Democracy, Peter Murphy. The Theory of Modernity and the Problematic of Democracy, Johann Amason. The Life and Times of Social Democracy, Peter Beilharz. Corporatism, Democracy, and Modernity, Julian Triado. The Anti-totalitarian Revolutions, Edgar Morin. The Left After Communism, Ferenc Feher. The World Reconsidered. A Brief Aggiornamento for Leftist Intellectuals, Gunnar Skirbekk. Part 2. Beyond Crisis, Beyond Novelty, John Rundell. A Sociological Theory of Postmodernity,Zygmunt Bauman. The Self-misunderstanding of Modernity, Axel Honneth. Is Sociology Still the Study of Society? Alain Touraine. Civil Society and Social Theory,Jean Cohen and Andrew Arato. Are We Living in a World of Emotional Impoverishment? Agnes Heller. Individual, Society, Rationality, History,Cornelius Castoriadis.