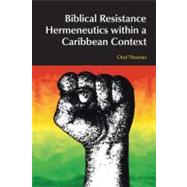 Note: Supplemental materials are not guaranteed with Rental or Used book purchases.
ISBN: 9781845536565 | 1845536568
Cover: Hardcover
Copyright: 8/8/2014
This work takes the view that biblical hermeneutics within a Caribbean context focus more on the meaning of biblical texts for lived realities and less on the Bible as historically and contextually conditioned and thereby ideological. Further, the work outlines the difficulties of combining biblical hermeneutics and social praxis within the context of the Caribbean and particularly within Christian communities that descend from a long history of slavery. Moreover, it examines the social and hermeneutical context of a post-independence Caribbean and poses hermeneutical questions involving text-context, oral-written and reading-practice. The historical materialist, postcolonial and contextual Bible study reading strategies are employed as tools of analysis for the following: to identify the socio-ideological interests, theological agenda and social practices that produced biblical texts; to analyse readings of the Letter to Philemon in the New Testament; to engage in a resistant reading of Philemon; and to develop a biblical resistant reading strategy that is critically aware of the cultural meaning of contextual realities (cultural literacy consciousness), comes out of a commitment to and involvement in social struggle(praxis of and for resistance) and gives agency to the materiality of conditions of interpreters and the material conditions out of which biblical texts emerged. This biblical resistant reading strategy seeks to overcome the disjuncture between the sociality of existence and matters of faith and has implications for the reading and defining of the Bible, theological perspectives in the Caribbean, worship and Caribbean hermeneutical practices. It does not privilege the socio-ideological interests and theological agenda and social practices that produced biblical texts over the socio-cultural and historical realities within the context of readers in the interpretive process but both. To give emphasis to one over the other is to blunt the Bible as a cultural weapon of resistance. The biblical resistant hermeneutic as developed in this work is the first of its kind within the Caribbean context.