Bird on Fire Lessons from the World's Least Sustainable City
, by
Ross, Andrew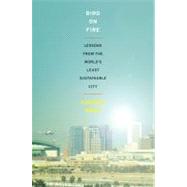 Note: Supplemental materials are not guaranteed with Rental or Used book purchases.
ISBN: 9780199828265 | 0199828261
Cover: Hardcover
Copyright: 11/3/2011
Phoenix, Arizona is one of America's fastest growing metropolitan regions. It is also its least sustainable, sprawling over a thousand square miles, with a population of four and a half million, minimal rainfall, scorching heat, and an insatiable appetite for unrestrained growth and unrestricted property rights. InBird on Fire, eminent social and cultural analyst Andrew Ross focuses on the prospects for sustainability in Phoenix--a city in the bull's eye of global warming--and also the obstacles that stand in the way. While most authors writing on sustainable cities look at places like Portland, Seattle, and New York that have excellent public transit systems and relatively high density, Ross contends that if we can't change the game in fast-growing, low-density cities like Phoenix, the whole movement has a major problem. ______Drawing on interviews with 200 influential residents--from state legislators, urban planners, developers, and green business advocates to civil rights champions, energy lobbyists, solar entrepreneurs, and community activists--Ross argues that if Phoenix is ever to become sustainable, it will occur more through political and social change than through technological fixes. Ross explains how Arizona's increasingly xenophobic immigration laws, science-denying legislature, and growth-at-all-costs business ethic have perpetuated social injustice and environmental degradation. But he also highlights the positive changes happening in Phoenix, in particular the Gila River Indian Community's successful struggle to win back its water rights, potentially shifting resources away from new housing developments to producing healthy local food for the people of the Phoenix Basin. Ross argues that this victory may serve as a new model for how green democracy can work, redressing the claims of the aggrieved in a way that creates long-term benefits for all. Bird on Fireoffers a compelling take on one of the pressing issues of our time--finding pathways to sustainability at a time when the approach of governments to climate change has been a dismal failure.