Black British Intellectuals and Education: Multiculturalism∆s hidden history
, by
Warmington
;
Paul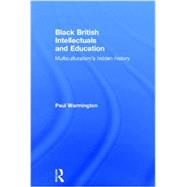 Note: Supplemental materials are not guaranteed with Rental or Used book purchases.
ISBN: 9780415809351 | 0415809355
Cover: Hardcover
Copyright: 5/7/2014
One of the salient differences between British and North American public spheres is that in the USA black public intellectuals are a longstanding, if embattled, feature of national life. Indeed ask any moderately interested Briton to name a '¨‹black intellectual'¨" and chances are the response will be an American name: Malcolm X or Obama, Toni Morrison or Henry Louis Gates. By contrast, black British thinkers are routinely marginalised in public debate. Yet the UK has a robust tradition of black intellectual creation, rooted in historically specific dialogues with the disparate materials of pan-Africanism, Marxism, feminism, anti-racism, post-colonialism, post-structuralism and critical pedagogy. The towering figures of the post-war era include CLR James, Claudia Jones, Ambalavaner Sivanandan, Stuart Hall and Paul Gilroy. In the field of education analyses of race and ethnicity have been shaped by the work of, among others, Bernard Coard, Gus John, Maureen Stone, Hazel Carby, Heidi Safia Mirza and Tony Sewell. Indeed, education is one of the significant fields in which black British intellectual positions have been defined and differentiated. Black British Intellectuals and Educationprovides a critical history of the diverse currents and shifts in black British intellectual production, focusing on the sometimes hidden impacts of black thinkers on educational theories and practices. It recounts the history of race, education and social justice in the UK, not primarily in terms of Acts of Parliament, policy reports, newspaper coverage or theories of '¨‹race relations'¨" but through the work of black British academics, educators and activists. In short, the book understands Britain'¨"s black communities as social agents, not merely as '¨‹problem-victim'¨" objects of policy scrutiny. Firstly, it argues that black British thinkers (emerging both from academia and the crucible of community activism) have helped fundamentally to shape educational policy, practice and philosophy. Secondly, it suggests that education was one of the key spaces in which the mass consciousness of being black and British originated. Through this approach, this book helps to make sense of how and why competing understandings of education in and for cultural diversity have developed in the UK over the past century - and how these have articulated with wider issues and crises in British life: from the early struggles of black settlers to Britain'¨"s contentious '¨‹post-multicultural'¨" present.