Bloodrites of the Post-Structuralists: Word Flesh and Revolution
, by
Norton,Anne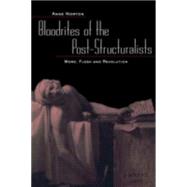 Note: Supplemental materials are not guaranteed with Rental or Used book purchases.
ISBN: 9780415934596 | 0415934591
Cover: Nonspecific Binding
Copyright: 10/18/2002
InBloodrites of the Post-Structuralistsprovocative theorist Anne Norton presents an alternative narrative of the history of the world She starts by reminding us of the real interplay between words (laws, scriptures, myths, and history) and the world of flesh (of bloodties and bloodshed, skin color and sexuality). The seemingly precious and all too literary constructs of the poststructuralists really do act on the body politic. The book is written on three historical sites: the revolutions in England and France, the struggle against colonialism, and the modern liberal order. In this telling, we see liberal constitutions born in Terror and regicide, we see a word, a text, a document, write "slave" on the darkness of the body, we see the guillotine release the power in the blood, and we hear the words that declare a people free. Norton re-reads and re-writes foundational myths from Abraham and Isaac on the mountain top in the Bible to legends of the American Revolution. This lyrical and mesmerizingbook serves, in its way, as a catalog of oppressions, and a history of the justifications oppressors have made for injustices. It also makes clear that that these oppressions and justifications continue on today, as certainly as they did in any point in history. Defying easy categorization,Bloodrites of the Post-Structuralistsis the ultimate challenges to all those who claim that history has come to end, or that life is classifiable or uncomplex, or that we understand all we need to understand about the story of Western History.