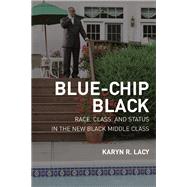 Note: Supplemental materials are not guaranteed with Rental or Used book purchases.
ISBN: 9780520251168 | 0520251164
Cover: Paperback
Copyright: 7/3/2007
The term "black middle class" conjures up a monolithic image of blacks whose everyday lives do not differ significantly from that of their working class or poor black neighbors as they struggle to make ends meet, to negotiate crime-ridden neighborhoods, to cope with grossly underperforming schools and poor municipal services. We have an exceedingly narrow perception of what it means to be black and middle class in America, but as Karyn Lacy's innovative work in the suburbs of Washington, DC reveals, there is actually a continuum of middle-classness among blacks, ranging from lower-middle class to middle-middle class to upper-middle class. Focusing exclusively on the latter two groups, Lacy explores an increasingly important social and demographic phenomenon: middle-class blacks who live in distinctly middle-class suburbs where lower class blacks are not present -- one predominately white, another majority black, yet another black and upper-middle class. These "blue-chip black" suburbanites earn well over $50,000 annually, live in desirable neighborhoods, work in predominantly white professional environments, and some have never had to endure economic hardship. Peering into their lives reveals a world largely unknown - to either social scientists or the average person. By studying three different types of stable middle-class communities, Lacy discovers something new: living in particular kinds of suburban communities results in different effects on how middle-class blacks think about and maintain their identities as black people in America. Blue-Chip Black shows that although some middle class blacks enjoy lifestyles that closely resemble their white counterparts, there is one crucial distinction: middle-class whites fit the public image of the middle class and may therefore take their middle-class status for granted, but similarly situated blacks believe that they must work harder and more deliberately and consistently to make their status known to others. Yet, Lacy finds that there are meaningful differences in how the three groups of middle-class blacks go about doing this work. The three groups of middle-class blacks have different strategies for defining themselves relative to those above and below them in the class structure. Using ethnographic observation and interviews with black couples and families living in the Washington, DC suburbs, Lacy examines the complicated sense of identity these group crafts to manage its interactions with lower-class blacks, middle-class whites, and other middle-class blacks as they seek to reap the benefits of their middle-class status. The result is a clear, insightful, and innovative addition to urban ethnography and cultural sociology, as well as a singular contribution to the ongoing debate about black identity.