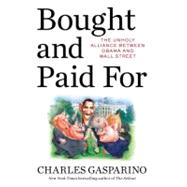 Note: Supplemental materials are not guaranteed with Rental or Used book purchases.
ISBN: 9781595230713 | 1595230718
Cover: Hardcover
Copyright: 10/5/2010
'When you strip away the name-calling and class warfare coming from the Obama administration, and when you ignore Wall Street's gripes about new legislation that will put a crimp on some of its profits, Wall Street and Washington are far more aligned than meets the casual eye. They coexist to help each other-in an unholy alliance against the American taxpayer.' For decades, most people have assumed that the corner offices on Wall Street are full of wealthy Republicans who lobby for low taxes and deregulation-while the Democrats, as defenders of the little guy, are the enemy of Goldman Sachs, Morgan Stanley, and their ilk. This stereotype has never been more popular than during the current Great Recession, when liberals blame George W. Bush for coddling and bailing out Wall Street. But as top investigative reporter Charles Gasparino proves, the truth is more complicated, and a lost more disturbing. When you get past their blustering public statements, leading Wall Street executives have long been some of the biggest donors to liberal politicians, including Obama in 2008. The fat cats know that the bigger Big Government gets, the more business will trickle down to them. And they know that many of the Democrats' call for tough financial reform are just hot air, to pacify their left-wing base while maintaining the status quo. The reality? Obama and the Democrats in congress have been bought and paid for by the same bad guys who wrecked the economy. The big banks will still be allowed to make a killing from shady practices. Meanwhile, the burden of higher taxes and regulations will fall on small business-the true engine of our economic growth-and on ordinary, hard-working, middle-class Americans. Gasparino draws on exclusive interviews with dozens of highly placed sources, from Washington to Wall Street and beyond, to reveal some shocking true stories. For instance, in late 2007, when Obama was still a dark horse candidate, he met secretly with several high-powered Wall Street executives and convinced them that, despite his liberal reputation in the Senate, he was really a moderate who would help their business. Written in Gasparino's famously blunt, no-nonsense style, this book is both an expose and a wake-up call to everyone who hates what Big Finance and Big Government are doing to our country.