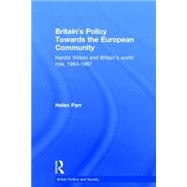 Note: Supplemental materials are not guaranteed with Rental or Used book purchases.
ISBN: 9780714656144 | 0714656143
Cover: Hardcover
Copyright: 12/19/2005
Harold Wilson's apparent volt-face on European Community membership in the autumn of 1966 has long puzzled both commentators and Wilson's colleagues. Based on recently released evidence from the National Archives along with interview and private papers, this book provides a new interpretation of Wilson's policy. After coming to power in 1964, the Labor government had no intention of approaching the EEC on the kind of terms that would likely be available. Wilson aimed to establish 'wider European unity' with economic links between the EEC and EFTA and technological collaboration between Britain and Community countries. Parr demonstrates that January 1966 was a turning point, as the Prime Minister ordered secret studies of the implications of membership, aware that Britain would lose influence in Europe and America without evidence of Britain's interest in the EEC. Yet de Gaulle's attitude and the weakness of sterling meant an initiative for membership was far from assured. It was the July 1966sterling crisis that finally convinced Wilson to make a bid for membership in the short term, against all the odds. Pressed by the Americans and preoccupied with domestic crisis, Wilson wanted an initiative to harness confidence in the government's economic policies and to provide a framework for Britain's continued presence on the international stage. He hoped he could persuade de Gaulle to admit Britain; but Wilson also presented an initiative convincing to European opinion, enabling Britain to enter the EEC after de Gaulle's departure. Without Harold Wilson, it would have been extremely unlikely that Edward Heath could have embarked on Britain's final, successful initiative so soon after the 1970 election.