Brothers Gonna Work It Out : Sexual Politics in the Golden Age of Rap Nationalism
, by
Cheney, Charise L.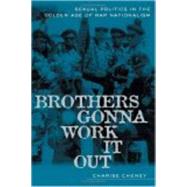 Note: Supplemental materials are not guaranteed with Rental or Used book purchases.
ISBN: 9780814716120 | 0814716121
Cover: Hardcover
Copyright: 7/19/2005
View the Table of Contents. Read Chapter 1. oIn her book, Cheney tries to dispel the notion that all rap music is about sex, violence and bling. . . . The book is insightfuluparticularly to white Americans who don't get the appeal of Louis Farrakhan or to older African-Americans whose knowledge of black music stops at Smokey Robinson. After reading this book, both groups might at least be tempted to sample some Public Enemy music.o uThe San Luis Obispo Tribune oA lively, unique, and often revisionist perspective on the sexual politics of hip-hop culture.o uWilliam L. Van Deburg, author of New Day in Babylon: The Black Power Movement and American Culture, 1965u1975 o[A] must read for anyone interested in the problems of gender and politics in rap music. Charise Cheney combines an historian?s insight with an expansive knowledge of hip-hop culture to produce this remarkable study of the rise of artists influenced by black nationalismuthe self-proclaimed oraptivists.o Cheney dives head-on into the contentious debates regarding the articulations of masculinity and black nationalism in rap, and how these reflect black Americans? age-old desire for power and authority. A vital contribution. uJane Rhodes, author of Framing the Black Panthers: The Spectacular Rise of a Black Power Icon Brothers Gonna Work It Out considers the political expression of rap artists within the historical tradition of black nationalism. Interweaving songs and personal interviews with hip-hop artists and activists including Chuck D of Public Enemy, KRS-One, Rosa Clemente, manager of dead prez, and Wise Intelligent of Poor Righteous Teachers, Cheney links late twentieth-century hip-hop nationalists with their nineteenth-century spiritual forebears. Cheney examines Black nationalism as an ideology historically inspired by a crisis of masculinity. Challenging simplistic notions of hip-hop culture as simply sexist or misogynistic, she pays particular attention to Black nationalists' historicizing of slavery and their visualization of male empowerment through violent resistance. She charts the recent rejection of Christianity in the lyrics of rap nationalist music due to the perception that it is too conciliatory, and the increasing popularity of Black Muslim rap artists. Cheney situates rap nationalism in the 1980s and 90s within a long tradition of Black nationalist political thought which extends beyond its more obvious influences in the mid-to-late twentieth century like the Nation of Islam or the Black Power Movement, and demonstrates its power as a voice for disenfranchised and disillusioned youth all over the world.