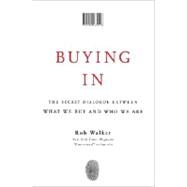 Note: Supplemental materials are not guaranteed with Rental or Used book purchases.
ISBN: 9781400063918 | 1400063914
Cover: Hardcover
Copyright: 6/3/2008
"Fascinating ... A compelling blend of cultural anthropology and business journalism." Andrea Sachs,Time Magazine "An often startling tour of new cultural terrain." Laura Miller, Salon "Marked by meticulous research and careful conclusions, this superbly readable book confirmsNew York Timesjournalist Walker as an expert on consumerism. ... [A] thoughtful and unhurried investigation into consumerism that pushes the analysis to the maximum..."Publisher's Weekly (starred review) Brands are dead. Advertising no longer works. Weaned on TiVo, the Internet, and other emerging technologies, the short-attention-span generation has become immune to marketing. Consumers are "in control." Or so we're told. InBuying In,New York TimesMagazine "Consumed" columnist Rob Walker argues that this accepted wisdom misses a much more important and lasting cultural shift. As technology has created avenues for advertising anywhere and everywhere, people are embracing brands more than ever beforecreating brands of their own and participating in marketing campaigns for their favorite brands in unprecedented ways. Increasingly, motivated consumers are pitching in to spread the gospel virally, whether by creating Internet video ads for Converse All Stars or becoming word-of-mouth "agents" touting products to friends and family on behalf of huge corporations. In the process, theywehave begun to funnel cultural, political, and community activities through connections with brands. Walker explores this changing cultural landscapeincluding a practice he calls "murketing," blending the terms murky and marketingby introducing us to the creative marketers, entrepreneurs, artists, and community organizers who have found a way to thrive within it. Using profiles of brands old and new, including Timberland, American Apparel, Pabst Blue Ribbon, Red Bull, iPod, and Livestrong, Walker demonstrates the ways in which buyers adopt products, not just as consumer choices, but as conscious expressions of their identities. Part marketing primer, part work of cultural anthropology,Buying Inreveals why now, more than ever, we are what we buyand vice versa. Praise forBuying In "Walker ... makes a startling claim: Far from being immune to advertising, as many people think, American consumers are increasingly active participants in the marketing process. ... [He] leads readers through a series of lucid case studies to demonstrate that, in many cases, consumers actively participate in infusing a brand with meaning. ... Convincing." Jay Dixit,The Washington Post "Walker lays out his theory in well-written, entertaining detail." Seth Stevenson,Slate "Buying Indelves into the attitudes of the global consumer in the age of plenty, and, well, we aren't too pretty. Walker carries the reader on a frenetically paced tour of senseless consumption spanning from Viking ranges to custom high-tops." Robert Blinn, Core77 "Rob Walker is one smart shopper." Jen Trolio, ReadyMade "The most trenchant psychoanalyst of our consumer selves is Rob Walker. This is a fresh and fascinating exploration of the places where material culture and identity intersect." Michael Pollan, author ofIn Defense of Food "This book has vast social implications, far beyond the fields of marketing and branding.