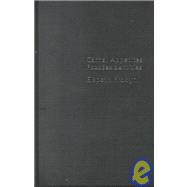 Note: Supplemental materials are not guaranteed with Rental or Used book purchases.
ISBN: 9780415223041 | 0415223040
Cover: Hardcover
Copyright: 9/20/2000
Why is there a new explosion of interest inauthenticethnic foods and exotic cooking shows, where macho chefs promote sensual adventures in the kitchen? Why do we watch TV ads that promise more sex if we serve the right breakfast cereal? Why is the hunger strike such a potent political tool? Food inevitably engages questions of sensuality and power, of our connections to our bodies and to our world. Carnal Appetitesbrilliantly uses the lens of food and eating to ask how we eat into culture, eat into identities, indeed eat into ourselves. Drawing on interviews, theory, and her own war with anorexia, Probyn argues that food is replacing sex in our imagination and experience of bodily pleasure. Our culinary cravings and habits express the turmoil in gender roles, in families, and even in the world economy, where famine coexists with plenty. Probyn explores these dark interconnections to forge a new visceral ethics rooted in the language of hunger and satiety, disgust and pleasure, gluttonyand restraint. From the fat pride movement and diet fads to genetically altered grain and colonial cannibalism,Carnal Appetiteslooks at what we eat to tell us who we are.