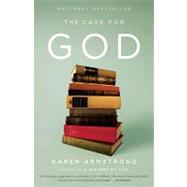 Note: Supplemental materials are not guaranteed with Rental or Used book purchases.
ISBN: 9780307389800 | 0307389804
Cover: Trade Paper
Copyright: 9/7/2010
A nuanced exploration of the part that religion plays in human life, drawing on the insights of the past in order to build a faith that speaks to the needs of our dangerously polarized age.
Moving from the Paleolithic age to the present, Karen Armstrong details the great lengths to which humankind has gone in order to experience a sacred reality that it called by many names, such as God, Brahman, Nirvana, Allah, or Dao. Focusing especially on Christianity but including Judaism, Islam, Buddhism, Hinduism, and Chinese spiritualities, Armstrong examines the diminished impulse toward religion in our own time, when a significant number of people either want nothing to do with God or question the efficacy of faith. Why has God become unbelievable? Why is it that atheists and theists alike now think and speak about God in a way that veers so profoundly from the thinking of our ancestors?
Answering these questions with the same depth of knowledge and profound insight that have marked all her acclaimed books, Armstrong makes clear how the changing face of the world has necessarily changed the importance of religion at both the societal and the individual level. Yet she cautions us that religion was never supposed to provide answers that lie within the competence of human reason; that, she says, is the role of logos. The task of religion is "to help us live creatively, peacefully, and even joyously with realities for which there are no easy explanations." She emphasizes, too, that religion will not work automatically. It is, she says, a practical discipline: its insights are derived not from abstract speculation but from "dedicated intellectual endeavor" and a "compassionate lifestyle that enables us to break out of the prism of selfhood."
"Celebrated religion scholar Armstrong creates more than a history of religion; she effectively demonstrates how the West (broadly speaking) has grappled with the existence of deity and captured the concept in words, art and ideas A brilliant examination An accessible, intriguing study of how we see God." -Kirkus Reviews (starred review)
"The new book by premier contemporary historian of religion is a history of God Presenting difficult ideas with utter lucidity, this registers at once as a classic of religious and world history." -Ray Olson, Booklist (starred review)
"Armstrong offers a tour de force Highly recommended for readers willing to grapple with difficult but clearly articulated concepts and challenges to the 'received' ways of perceiving religion. A classic." -Carolyn M. Craft, Library Journal
"One of our best living writers on religion Prodigiously sourced, passionately written." -John Cornwell, Financial Times
"Karen Armstrong is one of a handful of wise and supremely intelligent commentators on religion As in so much of the rest of her hugely impressive body of work, Karen Armstrong invites us on a journey through religion that helps us to rescue what remains wise from so much that to so many no longer seems true." -Alain de Botton, The Observer