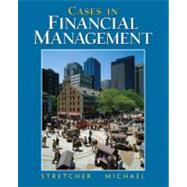 Note: Supplemental materials are not guaranteed with Rental or Used book purchases.
ISBN: 9780131483439 | 0131483439
Cover: Paperback
Copyright: 10/26/2004
Experiential Learning and Case Studies
The meaning, application, and nature of case studies differ greatly across textbooks, authors, universities, and disciplines. In some environments, case studies are essentially reality, such as in medical training. In the finance classroom, it is difficult to bring reality to the place of learning. To some degree, though, case studies make this possible, while maintaining the absence of serious penalties for errors that are present "on the job." Typically, a business case provides a set of narrated facts that describe a real situation. You are required to observe, structure, and analyze the situation, synthesizing the relevant case information using tools or theories from their discipline. The objective is to engage you and your peers in a business situation, allowing you to practice theories, principles, and techniques that are emphasized in a class. This permits you to move from conceptual textbook material into an applied learning experience.
Cases are unlike "back of the book" problems. The real world often does not fit nicely into the academic finance models. Since financial management is an applied discipline, it is important to provide for experiential learning. Experiential learning can be accomplished with internships and co-ops. However, these do not usually provide for exposure to a wide variety of financial situations where you can practice the principles of your academic learning. The responsibility level of internships and co-ops is also normally on the low end, separating interns from financially responsible decisions the firm must make. Cases, though, can effectively present a variety of nuances for advanced students, or can focus on more narrow lessons for the beginner. A wide set of experiences can challenge you and can produce competencies that are retained beyond your academic world and utilized on the job.
Cases often do not have "correct" solutions. Even experts in the field realize that the success of a properly applied recommendation depends on factors that cannot be predicted with confidence. In financial management, decision techniques are most often based on expectations. Expectations, of course, may not pan out. For this reason, professors are typically more interested in what you can assess in your case analysis: your use of facts, diagnosis of the issue(s), proper application of theories and tools, ability to make decisions with incomplete information, and development of a sound argument consistent with the facts to support your recommendation.
The case study approach in training practitioners is widely recognized and has become increasingly applied to the training of attorneys, physicians, nurses, and other professionals. Even in business cases, the analogy is that of a medical diagnosis. A physician observes symptoms, runs tests, summarizes information on a chart, and determines treatments and medications that are proper for the situation. Similarly, the finance student can observe the case symptoms (facts) facing the patient (a business, manager, or individual). For example, a firm may be experiencing declining profits, loss of market share, and high employee turnover. The task of the student is to identify the underlying problem causing these troubling facts. It would be ridiculous for a physician to treat an appendicitis patient with aspirin for the pain and fever when the appropriate treatment is an appendectomy! Similarly, the task of the business case student is to identify the real problem and take appropriate action (not just treat symptoms).
More advanced classes may involve cases that capture the complexity of the business environment with no particular guidance as to how to approach the situation. For intermediate-level financial management courses, though, we focus on business problems associated specifically with financial management and narrow enough to be effective lessons, given your current and prior exposure to financial concepts and theories. The cases in this volume are appropriate for courses beyond the first financial management course. While we do not generally recommend their use at the graduate level, there may be occasions to use some of these cases to highlight lecture topics in lower-level masters courses. These cases can also serve masters-level courses designed to bring non-business undergraduates up to speed for graduate study in business.
What to Expect for Case Assignments
Finance professors differ with respect to how the case approach will be integrated into the course. Some will use cases as the major resource for a class, while others may integrate cases into the traditional mix of lectures, research assignments, and textbook readings. There is also substantial variation in professors' expectations from students in a case assignment, anywhere from preparation of the case for discussion in class, to complete analyses to be turned in or presented. The following is just a very general guideline as to how to approach the cases in this textbook.
Reading the Case
There is a technique to reading a case. While cases are used to expose you to financial situations, there is a distinct difference between financial reality and financial cases. In real situations, we must perceive problems and issues needy of attention. These are sometimes highlighted by conflicts, tensions, or crises. A financial case, on the other hand, is written because there is an issue worthy of development of a learning tool. In reading a case, you need to realize that the author of the case is implying that an issue exists, and that some requirement for action is anticipated. For cases in this book, you can expect that the information presented is usually sufficient for you to develop an understanding of the situation, without the distracting influences that are always present in the real world. In some of the cases, you will have to assess the necessity for assumptions, prudently applied. In the real world, facts and data are often background noise; information is usually available, but no one is there to tell us what is relevant and what is irrelevant (master's level cases often include much more information, in order to train the student to discern between noise and pertinent facts).
We recommend two readings of the case. On the first reading, approach the case as a story, looking for the plot and story development. Try to relate the facts to one another. Try to determine why the case was written, what lesson is intended, and what possible financial concepts and tools will be required to analyze the case. On the second reading, concentrate on the details of the case. Examine the data, and develop an understanding of the decision at hand. Take notes on the key items, and remember where you saw pertinent facts. Questions at the end of each case sometimes serve as a guide as to how to approach the analysis, but "doing the questions" does not substitute for an effective reading of the case.
Analyzing the Case
For each of these cases, questions guide you through the process of the learning experience. A particular case, though, can have a richer lesson, which your professor may want to explore. While analyzing a situation from a financial standpoint is important, it is also important for you to realize that the analysis takes place in a business environment, where many other concerns exist. For example, consider case number 11, Lehman Container Corporation. The case task is the financial analysis of the projects, but there exists some obvious problems with handling strong diverse opinions from opposing managers (exhibit 4). Unnecessary irritation of upper management may jeopardize an analyst's future employment! The financial analysis must sometimes be tempered with considerations that are non-financial in nature.
For focused cases such as these, it is