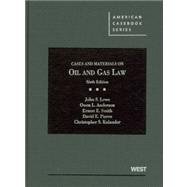 Note: Supplemental materials are not guaranteed with Rental or Used book purchases.
ISBN: 9780314285164 | 0314285164
Cover: Hardcover
Copyright: 11/14/2012
This new edition of the popular textbook on the law of oil and gas focuses first on ownership of the resource. Chapter 1 examines the common law of oil and gas ownership and the remedies that protect and restrict ownership rights. Chapter 2 focuses on the foundational business relationship used to develop oil and gas in the United States the oil and gas lease. Chapter 3 examines common problems encountered in oil and gas conveyancing. Chapter 4 explores legislative and regulatory responses to problems created by common-law ownership concepts, focusing on oil and gas conservation law. Chapter 5 examines the body of law designed to regulate environmental impacts by following the oil and gas development process chronologically, from land acquisition to abandonment. Chapter 6 considers transactions other than leasing and conveying that are frequently encountered in the industry, including assignments, farmouts, operating agreements, drilling contracts, and gas sales contracts. Finally, Chapter 7 examines the complex body of law that must be considered when oil and gas development is taking place on property owned by the federal, state, or tribal governments. The authors have retained the same basic coverage within the chapters but have changed the order of the chapters, moving discussion of the oil and gas lease forward and delaying discussion of state and federal conservation law and practice until after coverage of titles and conveyances. The authors have also included the following new coverage and changes: more detailed discussion of geophysics, petroleum geology of both conventional and unconventional reservoirs, petroleum engineering, drilling, completion and production technology, including 3-D seismic, horizontal drilling, and hydraulic fracturing; coverage of the effect of these new methods of production on traditional oil and gas law private agreements; further integration of implied covenant issues with express lease issues and conservation with pooling and unitization; discussion of more contracts and transfers by oil and gas lessees, including credit agreements, farmouts, participations agreement, master service agreements and joint operation agreements; new principal cases and editing of older materials and notes; and inclusion of environmental law materials in a separate chapter.