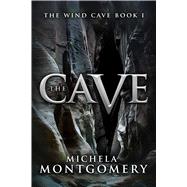 Note: Supplemental materials are not guaranteed with Rental or Used book purchases.
ISBN: 9781618689177 | 1618689177
Cover: Paperback
Copyright: 4/7/2015
When a nuclear war devastates the U.S. a four-day excursion quickly turns into a fight for survival in The Cave.

Six students from Stanford on summer break journey into The Wind Cave, one of the longest and deepest caves in North America. But what begins as a four-day excursion turns into a life-or-death battle for survival.
The second day into their trip, nuclear war is launched against the United States from within the country. The geography of the cave changed with the movement of the blasts, and the group is unprepared to sacrifice what they must to escape.
With their exit blocked and their food supply dwindling, they must navigate the maze of tunnels to find an alternate exit back home--if there's still a home to return to.
At twenty, Kate Moore has had her share of death and loneliness. Orphaned at sixteen, Kate took an early acceptance at Stanford to make something of herself, and leave that scared small-town girl far behind. Four years at Stanford merited her a degree, a best friend closer than blood, and a mentor that made her heart ache just to be close to him.
Kate and her mentor, Percy, plan a four-day excursion into one of the longest and deepest caves in North America, to help Percy research his thesis—and to give Kate a chance to finally tell him how she feels. Knowing she may not be able to go through with it alone, her best friend Ano agrees to come along. But nothing goes as planned. Unexpectedly, the size of their group doubles just before their descent and Kate, Percy and Ano find themselves saddled with three extra Stanford students. Once within the depths of the cave, what feels like an explosion destroys their chances of returning to the surface--knocking out the elevator that can take them home--trapping them hundreds of feet below the surface with no way out--except to navigate through the chasm of dark tunnels and crevasses together. Through a broken transmission, they learn that the United States has been brutally attacked, and they are trapped, powerless to help the millions that are dying on the surface, including their families. Desperation and fear divide the group and a serious injury to their leader diminishes their chances of returning to the surface alive.
As they wind their way through the broken passages, each of them reveals the real reason they came into the Cave--as they bond and strain against new relationships and alliances. With little food and water left, the group must search for new sources within the Cave--hoping it will last until they can make their way to the southernmost exit.

With Percy badly injured and no one to navigate the remainder of the way, it will require the strength and skills of all of them to discover if they have what it really takes to survive. Because the real battle lies just beyond the exit...of the Cave.