Caw Pawa Laakni, They Are Not Forgotten: Sahaptian Place Names Atlas of the Cayuse, Umatilla, and Walla Walla
, by
Karson, Jennifer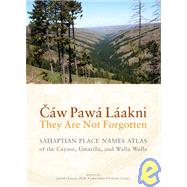 Note: Supplemental materials are not guaranteed with Rental or Used book purchases.
ISBN: 9780295990262 | 0295990260
Cover: Paperback
Copyright: 10/7/2015
Caw Pawa Laakni, They Are Not Forgotten draws from the knowledge of Native and non-Native elders and scholars to present a compelling account of interactions between a homeland and its people. A project of the Tam├┬ístslikt Cultural Institute at the Confederated Tribes of the Umatilla Reservation, the atlas presents descriptions of 400 place names. Narrative enriches the many maps in the book to paint a picture of a way of life that provides context for interpreting pre-contact communities. This assemblage of cultural memory and meaning echoes a record that has all but disappeared from common knowledge. --For this atlas, traditional knowledge and institutional knowledge was circulated, shared, and formalized as a text-based narrative. Many of the accounts come from the individuals who traveled on horseback, lived in and saw the areas listed, and possessed a level of knowledge that cannot be replicated in this day. In presenting these place names, the Tribes strive to ensure the vitality of this communal knowledge into the future. The atlas provides a balanced understanding of regional history. Places named in the Indian languages are juxtaposed with sites central to the colonial period, such as those described by Lewis and Clark and given to fur-trading posts, missions, and those along the route of the Oregon Trail. The atlas adds a needed and vivid Indian perspective to the written history of Oregon and the West. Eugene S. Hunn is professor of anthropology at the University of Washington. Other contributors are E. Thomas Morning Owl, Jennifer Karson-Engum, Phillip E. Cash Cash, Daniel B. Haug, Roberta L. Conner, John M. Chess, and Modesta J. Minthorn.