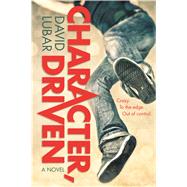 Note: Supplemental materials are not guaranteed with Rental or Used book purchases.
ISBN: 9780765376947 | 0765376946
Cover: Paperback
Copyright: 3/14/2017
Character, Driven is a powerful and hilarious coming-of-age novel for young adults by acclaimed author David Lubar.
With only one year left of high school, seventeen-year-old Cliff Sparks is desperate to find a girlfriend and "come of age." But he's never had much luck with girls. So when he falls for Jillian, a new classmate, at first sight, all he can do is worship her from afar. At the same time, Cliff has to figure out what to do with the rest of his life, since he's pretty sure his unemployed father plans to kick him out of the house the minute he turns eighteen. Time is running out. Cliff is at the edge, on the verge, dangling—and holding on for dear life.
"Readers will giggle and guffaw at Lubar's trademark humor, while their heartstrings are tugged and feelings are tied in knots. This exquisitely crafted coming-of-age novel gets down and dirty—and even rebellious—without sacrificing honesty, thoughtfulness, or respect." —Booklist, starred review
"Readers will relish clever wordplay, fantasies, and a major secret. In a genre full of barely likable teenage protagonists, Cliff is a charmer, and readers will be cheering him on to finally come of age. Cliff is a character driven to fulfill his quest, and readers will be with him every step of the way." —Kirkus Reviews, starred review
"Filled with wordplay and moments of wry observation and revelation, this contemporary coming-of-age-novel follows the trials of a big-hearted teen who suffers some hard knocks. . . . Cliff's humorous perspective on his predicaments doesn't lessen their sharp impact." —Publishers Weekly, starred review
"At the center of this hilarious offering is an adorably awkward protagonist. Cliff's first-person and sometimes second-person narration, rendered in an affable, funny, and talkative tone, will suck readers into his life story immediately… Cliff breaks the fourth wall often, adding rich layers to this creative work of metafiction. Lubar plays with tropes expertly, crafting a deeply relatable young man whom readers won't soon forget. VERDICT A fascinating and inspired novel for sophisticated readers." —School Library Journal, starred review