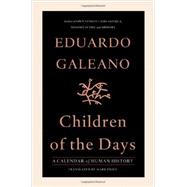 Note: Supplemental materials are not guaranteed with Rental or Used book purchases.
ISBN: 9781568587479 | 1568587473
Cover: Hardcover
Copyright: 4/30/2013
This book is shaped like a calendar. With each day, comes a story. Its inspiration is the Mayan version of Genesis which tells, "And the days began to walk. And they, the days, made us. And thus we were born, the children of the days, the discoverers, life's searchers." For each day, Galeano has chosen a story from that date, something unknown or almost unknown, of feasts and tragedies that really happened, from all possible years and places, violating the frontiers of maps and time. Galeano challenges the reader to consider the human condition and our own wretched choices. These vignettes elevate the little known heroes of our world and decry the destruction of treasures (intellectual, linguistic, and emotional) that we have all but forgotten. This book is like a cousin of Mirrors, full of yarns, prose poems, ditties and dance steps that resurrect the lives of the heroes who have fallen off the historical map. It reminds us of our sweet victories and darkest hours. You will meet Manuela Leon, who stirred up Ecuador in the 1870s and caused the Indian masses to rise against forced labor and the payment of tribute. As if that were not enough, she also committed the impertinence of challenging Lieutenant Vallejo, a government official, to fight a duel before the astonished eyes of his soldiers, and in open combat her lance humiliated his sword. You will learn: The most popular episode of the Catholic catechism, Adam and Eve biting the apple, is not listed in the Bible. The Greek Eratosthenes measured the waist of the world 2300 years ago, and was wrong by only sixty miles That Aristotle wrote that a woman is "an incomplete man", and St Thomas of Aquino wrote that woman is "an error of nature". That Spaniards who bathed were once accused of Muslim heresy. That until 1990 that homosexuality was a mental illness, according to the World Health Organization. Only eleven people attended Karl Marx's funeral, including the undertaker. Until 2008 that Nelson Mandela was still on the list of terrorist security risks to the U.S. In Haiti, according to ancient tradition, mourners should lead the funeral casket in a zigzag to mislead the dead so they can no longer find the way back? Every two weeks ... a language dies. Galeano is like one of the walking librarians of the middle ages, who set up caravans during times of war as a refuge for books and stories. Galeano says that humans are made up both of atoms and stories. In this great humanist treasure he shows us how to live and how to remember. It awakens the best in us.