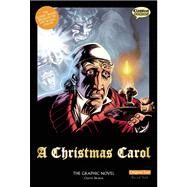 Note: Supplemental materials are not guaranteed with Rental or Used book purchases.
ISBN: 9781906332518 | 1906332517
Cover: Paperback
Copyright: 11/25/2008
The classic novel brought to life in full color! This classic tale was first published on December 17th 1843, and sold over 5,000 copies by Christmas Eve. Since then, the book has never been out of print, and it has become synonymous with Christmas itself. The book includes an illustrated Character List (like a Dramatis Personae), 134 pages of story artwork, and fascinating support material that details the life and work of Charles Dickens as well as information on Victorian England - all beautifully presented in color. Designed to encourage readers to enjoy classical literature, titles in the Classical Comics range stay true to the original vision of the authors. They also offer alternative text versions to cater for different readership levels. This title has been moderately and sympathetically abridged from the original text to fit within the graphic novel format. Despite that, all of the events of the book are represented in every version - it's only the speech that changes! Ebenezer Scrooge is a miser who has forgotten the meaning of Christmas. He is visited by the ghost of his dead business partner, Jacob Marley, who tells scrooge that he will be visited by three further ghosts: The ghost of Christmas Past, the ghost of Christmas Present, and the ghost of Christmas Future. Each ghost shows him things that gradually rekindle the joy and spirit of Christmas within old Scrooge; making him re-evaluate his attitude towards the season and in turn towards his fellow man. In typical fashion, Dickens deals with social injustice and the difference between the rich and poor in the 19th century through a thought-inspiring story. His message, loud and clear, is to spread goodwill to all men - and especially at Christmas time. The novel has enjoyed many movie and TV adaptations, from the classic 1951 movie 'Scrooge' starring Alastair Sim, through to 'Scrooged' starring Bill Murray and Patrick Stewarts excellent 1999 Hallmark film; and who can forget 'A Muppet Christmas Carol', also starring Michael Caine! Like all of their titles, this Classical Comics production remains true to the original novel, and features incredible artwork that will engage any reader - making it a fantastic gift for the holiday season.