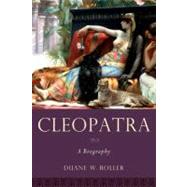 Note: Supplemental materials are not guaranteed with Rental or Used book purchases.
ISBN: 9780199829965 | 0199829969
Cover: Paperback
Copyright: 11/1/2011
Few personalities from classical antiquity are more familiar yet more poorly grasped than Cleopatra (69-30 BC), queen of Egypt. The subject of a vast repertory of post-antique popular culture, Cleopatra is generally thought of as an unfit ruler and wanton seductress--an image first created by Roman propaganda. In fact, she was an accomplished diplomat, administrator, naval commander, linguist (she was probably the first Ptolemaic ruler to learn Egyptian), and author, who, until her very last years, skillfully managed her kingdom in the face of a deteriorating political situation and increasing strength and hostility from Rome. The fact that the wealthy and strategically located kingdom of Egypt held out so long against Roman conquest is due largely to the formidable skills of its last Ptolemaic ruler. InCleopatra, Duane W. Roller provides the definitive biography of the queen, not as a figure in the arts and literature of the last five hundred years, but as the last Greek queen of Egypt. In addition to providing an engaging narrative of the queen's life, the author carefully contextualizes Cleopatra in the revolutionary events of the first century BC. He highlights the important heritage of the Ptolemies, rulers in Egypt since the death of Alexander the Great three hundred years earlier, and the growing involvement of Rome in the Eastern Mediterranean, which culminated in Octavian's defeat of Cleopatra and annexation of her kingdom in 30 BC. Roller also considers Cleopatra's various predecessor queens, who are often ignored but were fascinating personalities in their own right, and her descendents: although Cleopatra was seen as "the last of the Ptolemies" her daughter and grandson ruled in Africa for another 70 years. The result is the most complete and authoritative portrait of the life and times of this perennially fascinating figure.