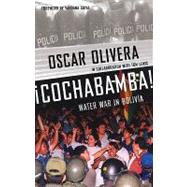 Note: Supplemental materials are not guaranteed with Rental or Used book purchases.
ISBN: 9780896087026 | 0896087026
Cover: Paperback
Copyright: 11/15/2004
Historically a common trust, water is now bought and sold as a private commodity.With billions at the mercy of an unrestrained marketplace, it is easy to understandwhy this precious resource is at the center of the international movement workingto turn back the rising tide of corporate globalization. The triumphant struggle of grassroots activists in Cochabamba, Bolivia, soundeda significant opening salvo in the water wars. In 2001, water warriors thereregained control of their water supply and defied all odds by driving out thetransnational corporation that had stolen their water in the first place. !Cochabamba! is the story of the first great victory against corporateglobalization in Latin America. Oscar Olivera, a 45-year-old machinist who helpedshape and lead a movement that brought thousands of ordinary people to the streets,powerfully conveys the perspective of a committed participant in a victoriousand inspirational rebellion. The beloved and highly respected Olivera relates the selling of the city'swater supply to Aguas del Tunari-a subsidiary of US-based Bechtel-thesubsequent astronomical rise in water prices, and the refusal of poverty-strappedBolivians to pay them. Olivera brings us to the front lines of a movement, chroniclinghow the people organized an opposition and the dramatic struggles that eventuallydefeated the privatizers. With hard-won political savvy, Olivera reflects on major themes that emergedfrom the war over water: the fear and isolation that Cochabambinos faced witha spirit of solidarity and mutual aid; the challenges of democratically administeringthe city's water supply; and the impact of the water wars on subsequentresistance. Oscar Olivera is president of the Cochabamba Federation of Factory Workers and 2001 winner of the prestigious Goldman Environmental Prize. Tom Lewis is Latin America editor for the International Socialist Review and professor of Spanish at the University of Iowa.