College Disrupted The Great Unbundling of Higher Education
, by
Craig, Ryan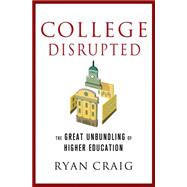 Note: Supplemental materials are not guaranteed with Rental or Used book purchases.
ISBN: 9781137279699 | 1137279699
Cover: Hardcover
Copyright: 3/10/2015
For nearly two decades, pundits have been predicting the demise of higher education in the United States. Our colleges and universities will soon find themselves competing for students with universities from around the world. With the advent of massive open online courses ("MOOCS") over the past two years, predictions that higher education will be the next industry to undergo "disruption" have become more frequent and fervent. Currently a university's reputation relies heavily on the "four Rs" in which the most elite schools thrive—rankings, research, real estate, and rah! (i.e. sports). But for the majority of students who are not attending these elite institutions, the "four Rs" offer poor value for the expense of a college education.
Craig sees the future of higher education in online degrees that unbundle course offerings to offer a true bottom line return for the majority of students in terms of graduation, employment, and wages. College Disrupted details the changes that American higher education will undergo, including the transformation from packaged courses and degrees to truly unbundled course offerings, along with those that it will not. Written by a professional at the only investment firm focused on the higher education market, College Disrupted takes a creative view of the forces roiling higher education and the likely outcome, including light-hearted, real-life anecdotes that illustrate the author's points.