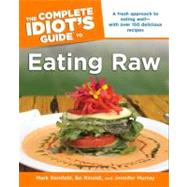 Note: Supplemental materials are not guaranteed with Rental or Used book purchases.
ISBN: 9781592577712 | 1592577717
Cover: Paperback
Copyright: 7/1/2008
The raw food diet has gained popularity recently thanks to celebrities such as actors Woody Harrelson and Alicia Silverstone, model Carol Alt, designer Donna Karan, Dr. Michael Beckwith, and celebrity chef Charlie Trotter. More and more people are no longer cooking their food, but turning to a raw food diet, eating raw greens, fruit, nuts, and seeds. According to proponents, the heated oils of cooked foods are not as healthful as unheated oils, and in some cases heating oils turns them carcinogenic. Uncooked oils such as cold pressed olive oil, flax oil, soya, hemp, or walnut oil, when consumed in their raw state, can be metabolized easily and used efficiently. Once cooked, however, the oils' molecular structures are changed, and the body struggles to metabolize the fats. This is one of the reasons that people on a high fat, raw food, vegan diet do not put on weight. Also, heating food above 116 degrees Fahrenheit destroys the enzymes in food that can assist in the digestion and absorption. A diet of raw food contains little or no saturated fat and trans fats, and it is low in sodium, high in potassium, magnesium, folate, fibre, and health-promoting plant chemicals called phytochemicals-properties associated with a reduced risk of diseases such as heart disease, diabetes, and cancer.