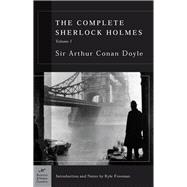 Note: Supplemental materials are not guaranteed with Rental or Used book purchases.
ISBN: 9781593080341 | 1593080344
Cover: Paperback
Copyright: 9/1/2003
The Complete Sherlock Holmes, Volume I, bySir Arthur Conan Doyle, is part of the Barnes & Noble Classics series, which offers quality editions at affordable prices to the student and the general reader, including new scholarship, thoughtful design, and pages of carefully crafted extras. Here are some of the remarkable features ofBarnes & Noble Classics: All editions are beautifully designed and are printed to superior specifications; some include illustrations of historical interest.Barnes & Noble Classicspulls together a constellation of influences--biographical, historical, and literary--to enrich each reader's understanding of these enduring works. The Complete Sherlock Holmescomprises four novels and fifty-six short stories revolving around the world's most popular and influential fictional detective--the eccentric, arrogant, and ingenious Sherlock Holmes. He and his trusted friend, Dr. Watson, step from Holmes's comfortable quarters at 221b Baker Street into the swirling fog of Victorian London to exercise that unique combination of detailed observation, vast knowledge, and brilliant deduction. Inevitably, Holmes rescues the innocent, confounds the guilty, and solves the most perplexing puzzles known to literature. Volume IofThe Complete Sherlock Holmesstarts with Holmes's first appearance,A Study in Scarlet, a chilling murder novel complete with bloodstained walls and cryptic clues, followed by the bafflingThe Sign of Four, which introduces Holmes's cocaine problem and Watson's future wife. The story collectionsThe Adventures of Sherlock HolmesandThe Memoirs of Sherlock Holmesfeature such renowned tales as "A Scandal in Bohemia," "The Red-Headed League," and "The Musgrave Ritual." Tired of writing stories about Holmes, his creator,Sir Arthur Conan Doyle, killed him off at the end of "The Final Problem," the last tale inThe Memoirs. But the public outcry was so great that eight years later he published the masterfulThe Hound of the Baskervilles, which supposedly takes place before Holmes's death. The separateVolume IIofThe Complete Sherlock Holmescollects the remaining accounts of Holmes's exploits, including "The Adventure of the Empty House," which reveals the elaborate circumstances behind Holmes's literary resurrection. Kyle Freeman, a Sherlock Holmes enthusiast for many years, earned two graduate degrees in English literature from Columbia University, where his major was twentieth-century British literature.