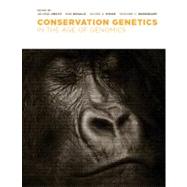 Note: Supplemental materials are not guaranteed with Rental or Used book purchases.
ISBN: 9780231128322 | 0231128320
Cover: Hardcover
Copyright: 8/1/2009
Genome sequencing enables scientists to study genes over time and totest the genetic variability of any form of life, from bacteria to mammals. Thanksto advances in molecular genetics, scientists can now determine an animal's degreeof inbreeding or compare genetic variation of a captive species to wild or naturalpopulations. Mapping an organism's genetic makeup recasts such terms as biodiversityand species and enables the conservation of rare or threatened species, populations,and genes.By introducing a new paradigm for studying andpreserving life at a variety of levels, genomics offers solutions to previouslyintractable problems in understanding the biology of complex organisms and createsnew tools for preserving the patterns and processes of the history of life on thisplanet. Featuring a number of high-profile researchers, this volume introduces theuse of molecular genetics in conservation biology and provides a historicalperspective on the opportunities and challenges presented by new technologies. Itdiscusses the role of zoo-, museum-, and herbarium-based biological collections,which has expanded over the past decade, and covers the promises and problems ofgenomic and reproductive technology. The collection concludes with the philosophicaland legal issues of conservation and potential effects on the formation of publicpolicy.