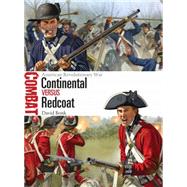 Note: Supplemental materials are not guaranteed with Rental or Used book purchases.
ISBN: 9781472806482 | 1472806484
Cover: Paperback
Copyright: 11/18/2014
In June 1775 the Continental Congress, leading the American rebellion against the British Crown, created the Continental Army to serve in the line of battle alongside militia and "Provincial" units. Although supply problems, issues with discipline, and poor training hampered the Continentals' effectiveness in combat, they were able to inflict a decisive defeat on the British at Yorktown. In contrast, the backbone of the British forces in North America were long-service regular infantrymen, serving for the most part in single-battalion regiments. They had earned a formidable reputation on Europe's battlefields during the Seven Years' War, but in fighting the French in North America during that conflict had already learned a great deal about the very different fighting conditions prevalent in the New World.
In a host of encounters ranging from skirmishes to decisive pitched battles, the infantrymen of both sides would be tested to the limit, with supply problems, hostile terrain, and poor weather all adding to the horrors of close-quarter combat. Featuring full-color artwork, specially drawn maps, and archive illustrations, this engaging study offers key insights into the tactics, leadership, combat performance, and subsequent reputations of six representative Continental and Redcoat infantry regiments pitched into three pivotal actions that shaped the outcome of the American Revolutionary War.