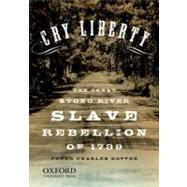 Note: Supplemental materials are not guaranteed with Rental or Used book purchases.
ISBN: 9780195386608 | 0195386604
Cover: Paperback
Copyright: 11/18/2011
The story of slavery in the colonial New World is, in part, one of rebellion. In Jamaica, Hispaniola, Dutch Surinam, and elsewhere, massive uprisings threatened European rule. But the situation in British North America was completely different. Between the founding of Jamestown in 1607 and the start of the American Revolution in 1775, the mainland colonies experienced only one documented major revolt--on South Carolina's Stono River in 1739--and it lasted a single day. However, asserts Peter Charles Hoffer, as brief as this event was, historians have misunderstood it--and have thus overlooked its deeper significance. InCry Liberty: The Great Stono River Slave Rebellion of 1739, Hoffer provides a thoroughly researched and finely nuanced narrative of the Stono River conflict, offering uncomfortable insights into American slavery in the process. In particular, he draws on new sources in order to reexamine this one dramatic day. According to conventional wisdom, recently imported African slaves--warriors in spirit and training--learned of an impending war between England and Spain. Seeking freedom from Spanish authorities, the argument runs, they launched a well-planned uprising in order to escape to Florida. Hoffer's extensive research uncovers a completely different series of events. He has mined legislative and legal records, land surveys, and first-hand accounts to identify precisely where the fighting began, trace the paths taken by rebels and militia, and offer a new explanation of its causes. Far from a noble, well-crafted revolt, Hoffer reveals, the slaves were simply breaking into a store to take what they thought was their due, and chance events put them on a path that no participant had originally intended to be on. Richly researched, crisply told, and unflinchingly honest,Cry Libertyuncovers the grim truth about the violent wages of slavery and sheds light on why there were so few slave rebellions in North America.