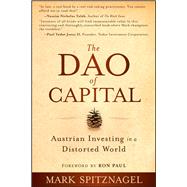 Note: Supplemental materials are not guaranteed with Rental or Used book purchases.
ISBN: 9781118347034 | 111834703X
Cover: Hardcover
Copyright: 9/3/2013
Ancient Chinese philosophy meets venerable Austrian economics in a hedge fund managers modern-day approach to investing. Hedge fund investor and tail-hedging pioneer Mark Spitznagel describes his unique investment methodology, weaving two-thousand-year-old Daoist philosophy into century-old Austrian economics to form a rigorous, entrepreneurial- cum -value approach that is both timeless and particularly applicable today. Considered todays principal doomsday investor, Spitznagel's focus on what he calls the markets natural homeostatic processes actually runs very contrary to doomsayers and free market critics. From an old pit-trading sage to the conifers of the vast boreal forests, Spitznagel reveals his central shi strategy, where gaining future advantage trumps the decisive victory, and where time takes on a whole new dimension-not "long term versus short term", but rather an appreciation for the intertemporal future. Spitznagel presents three central tenets of The Dao of Capital , drawn from the Three Treasures of Daoist philosophy: Patience and tolerance-to prepare for and fully exploit intertemporal opportunities through time Nonaggression and humility-to go where others shun Economy-of means, thought and action, to thus limit vulnerabilities and exposures With a sharp Austrian focus on the entrepreneurial functioning of the market, deference for its natural process, and contrarian bias toward government intervention-driven imbalances and distortions, The Dao of Capital and its Austrian investing methodology provide a profound harmony with the market process-a harmony that is so essential today.